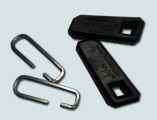 The yankezz

™

Zipper Repair System

Our no-sew zipper repair system that makes it fast and easy to replace a broken zipper pull.

One package contains two tab adapters, and two yankezz™ Grabbers.




yankezz™ Zipper Grabbers are zipper pull extenders that make grasping and using zippers easier!

Replace those small, hard-to-use zippers with yankezz™ Zipper Grabbers, or use our yankezz™ Zipper Repair system to repair broken jacket or suitcase zipper pulls.

Small children, the elderly, and outdoor sportsmen will immediately see the benefit of using yankezz™ Zipper products.


Other

uses for yankezz™

products:

·

Luggage repair shops

· Tailors
· Purses
· Arthritic
· Business professionals
· Athletes
· Music cases
· Boat repair
· Tent repair
· Sports equipment






The yankezz

™

Zipper Grabber

A flexible, easy to use product making anything with a zipper easier to grab. Simply push the grabber over your zipper tab until it locks into place.

Available in two different sizes. See our size chart for size information.